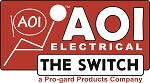 AOI Electrical, LLC is the leading manufacturer of Airbag On/Off Control Switches and Shunts. Airbag Switches provide law enforcement, municipal, and other fleets with a safe alternative when mounting aftermarket equipment such as computers, cameras, and other electronic necessities in the unoccupied, front passenger side of the vehicle.
For the civilian market, Airbag On/Off Control Switches afford drivers, and/or passengers, in at-risk categories to safely shut off the airbags that might physically harm them when deployed. AOI's Airbag Shunt products allow for the safe removal of airbags when vehicle seating areas must be permanently altered to accommodate drivers and/or passengers with disabilities.
AOI Electrical is a division of Pro-gard Products, LLC.
Transaction Type: Buyout to permit active ownership to pursue other interests
Web site: www.aoielectrical.com

Pro-gard Products was founded in 1968 and is a leading manufacturer and supplier of innovative and dependable law enforcement vehicle equipment. Their product line includes: Prisoner Transport Partitions and (Pro-cell) Containment Systems; Cargo Barriers; Prisoner Transport Seats and Floor Pans; Window Armor and Rear Door Panels; Prisoner Transport Lighting; Ballistic Door Panels; Universal Push Bumpers with and without Integrated LED Lighting; XPush Bumpers; Skid Plates; Seat Organizers; Trunk/Cargo Area Organizers; Electronic/Storage Trays; Cargo Cabinets; Weapon/Storage Drawers; Partition Mount, Roof Mount, Self Supporting, Special Purpose and Motorcycle Gun Racks; AOI Airbag On/Off Control Switches; and Safestop Vehicle Anti-theft Systems.
Pro-gard's employees take pride in the craftsmanship and quality that goes into making their products the safest and most reliable in the industry. Pro-gard offers its products throughout the United States and overseas. Pro-gard is capable of providing everything its customers need to protect themselves and their vehicle from the uncertainties they face in their day-to-day routine.
Transaction Type: Buyout to permit passive owners liquidity
Web site: www.pro-gard.com

Safestop is the leading manufacturer of vehicle anti-theft systems for the law enforcement community. Vehicle theft is a plague to which, unfortunately, not even law enforcement agencies are immune. However, for these fleets, the costs can be much higher due to liability concerns and negative publicity.
Safestop Vehicle Anti-theft Systems provide officers the means to leave their vehicles and emergency equipment running during intense situations, without fear of someone stealing the vehicle. The unique design of these systems not only prevents someone from driving off, but they also prevent access to police weapons and other expensive gear.
Safestop is a division of Pro-gard Products, LLC.
Transaction Type: Buyout to permit active owners to pursue other interests
Web site: www.safestopintl.com